Dear students and staff at the Faculty of Fine Art, Music and Design!
What is a studio? How might a workspace provide both concentration and inspiration from the outside world? And what might an interdisciplinary studio for fine art, music and design look like? Between 2021 and 2023, the STUDIO project at KMD will explore these questions in practice and theory.
Do you want to know more? Join the launch of STUDIO in Nedre hall on Monday 23 August from 16-18. There will be PUNCH & free PIZZA, STUDIO talks and music.
PUNCH & PIZZA. Marie Vallestad / Joy Forum
About STUDIO. Merete Røstad and Hild Borchgrevink, curators (KORO)
Dean and Vice Dean on STUDIO. Frode Thorsen and Åsil Bøthun
The STUDIO residency program. Imi Maufe and Hilde Kramer.
Building a STUDIO. A collaboration between KMD and BAS. Eamon O'Kane, Sveinung Unneland, Espen Folgerø
MUSIC STUDIO with Heidi Kvelvane (saxophone) and Amund Nordstrøm (percussion), Grieg Academy - Department of Music.
This autumn, STUDIO launches a series of collaborative projects between the departments at KMD, Bergen and the world. This semester we will, among other things, map empty buildings along the coast together with Bergen School of Architecture and develop virtual music rooms with STUDIO resident Mark Fell and the Bergen Centre for Electronic Arts. Our second STUDIO resident is artist and designer Imi Maufe, who will talk about residences and her practice during the launch.
STUDIO is part of Public Art Norway's art project for the new KMD building in Møllendalsveien 61. STUDIO will explore work processes and studio practice in the arts, music and design and how these can be linked to art education.
You can read more about STUDIO in the column below.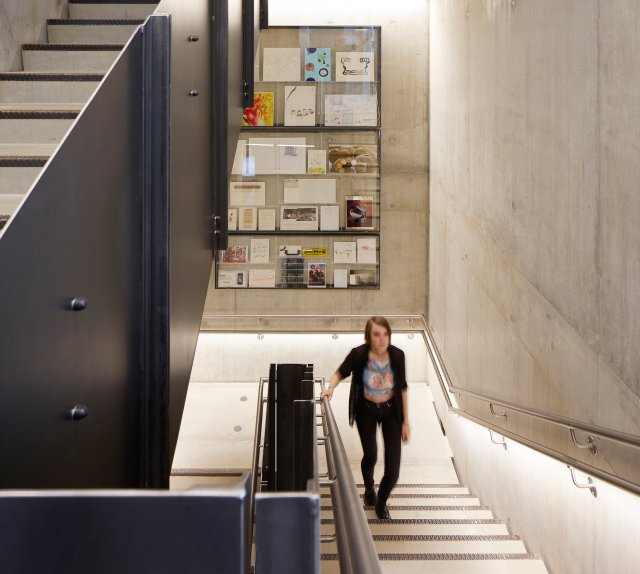 Photo: From the sub-project 'Ephemerality – A Permanent Collection', 2017. ©Hufton+Crow
Public Art Norway's art project for the future new building of the Faculty of Art, Music and Design (KMD) at the University of Bergen was initiated in 2014. Based on dialogue with students and staff, curators Nora Nerdrum and Merete Røstad came up with three principles as a basis for the art production that accompanies most public Norwegian building projects:
Collaboration across disciplines

Emphasis on process rather than finished artworks

Responding to the Faculty's strategies and activities
The principles were further developed in two sub-projects:
Ephemerality - A Permanent Collection (2017) and STUDIO (2021-2023).
2017: Ephemerality – A Permanent Collection
Ephemerality - A Permanent Collection was unveiled when the new building opened in 2017. It is a collection and an installation, mounted in the main staircase of KMD's building in Møllendalsveien 61. It consists of preparatory sketches, drafts and notes collected from nearly 200 former students at the institutions that today make up the departments of Art and Design at KMD.
Experiments and sketches are central to creative practice. Ephemerality - A Permanent Collection juxtaposes the fields of art and design and provides an insight into processes that may often be temporary, volatile and sometimes private. The collection does not contain any finished artworks, rather snapshots of creative processes. It might also be read as telling stories about the institutions that were incorporated in the new Faculty of Arts, Music and Design in 2017: Statens høgskole for kunsthåndverk og design (1909-1996), Vestlandets kunstakademi (1972-1996) and Kunst- og designhøgskolen i Bergen (1996-2016). The sketches reflect changing professional and pedagogical approaches. They are traces from people who have influenced art education and art life in Bergen, Norway and internationally. An illustrated catalogue accompanies the collection, in hard copy and as a pdf.

2021-2023: STUDIO
The project STUDIO will continue and develop the curatorial principles further in a series of interdisciplinary initiatives in the period 2021-2023. STUDIO will explore studio practice and work processes in the fields of the arts, music and design, and reflect around them in an educational context. The project aims to initiate activities that might be attractive for KMD to continue after KORO's project has been completed.
The content of STUDIO will be currently developed by a working group consisting of Professor Hilde Kramer (design), Professor Eamon O'Kane (Fine Arts), research fellow Stephan Meidell (Music), research fellow Sveinung R. Unneland (Fine Arts) and curators Merete Røstad and Hild Borchgrevink.
As of the autumn of 2021, STUDIO has three parallel tracks that inform each other:
Track 1: STUDIO construction
Students from all departments at KMD will develop temporary and permanent studio structures in public space. The project is a collaboration with students and staff at Bergen School of Architecture (BAS) and is led by architect Espen Folgerø, Professor Eamon O'Kane and research fellow Sveinung Unneland. STUDIO construction aims to involve the city and the public in discussing studio practice and what workspaces for art, music and design might look like. Throughout history, studios have been used for individual work, for teaching and for meetings with colleagues and audience. How can a workspace provide both concentration and inspiration? What can an interdisciplinary studio for art, music and design look like?
Track 2: STUDIO residency
A residency programme runs parallel to the construction processes. Here, the three departments at KMD will be able to invite professionals relevant to STUDIO for longer residencies in Bergen, preferably in collaboration with local professionals and institutions design, music and art in the city of Bergen. The residents will be invited to workshop or teach at KMD and to contribute to an open series of lectures on studio practice. Each resident is also encouraged to make their own work practice available to the public and to create a trace of stay that can be made publicly available when they leave Bergen. Residencies are programmed by the working group in dialogue with KMD's deans for research and education.
Track 3: STUDIO practice and publicness
An open series of lectures on studio practice will tie the construction process and residency program together. All activities of STUDIO will be documented, and the documentation is planned to form the basis of a future publication and a concluding symposium on studio practice and creative work processes.